Greetings Everyone! 
It's almost Thanksgiving! How'd that happen? I hope you are enjoying your Fall/Winter (depending on where you live). I know it's been a while since you've heard from me and I apologize for that. Things are going great here and I wanted to give you a quick update. There's a lot but I will try to keep it short. 
Busy Teaching and Loving It! 
This past year I came off the road and shifted my main job from concert touring to teaching private voice lessons. I am loving it! It's so much fun to pass on what I've learned over the years and help others to find their voice in order to share their God-given talents with others. And I can't lie... there's also been much comfort in knowing there's a steady pay check coming from that each month to pay the mortgage. 
I've also spent time continuing my vocal education by taking classes/lessons from one of the best coaches in L.A. (Mr. Dave Stroud) who is an amazing person and an incredible coach. It's really helping me to be the best teacher I can be for my students which is so rewarding.  I average about 25 students each week. We are gearing up for our Fall Recital and then I break from teaching in December so I can do my Advent/Christmas Concert Tour. Yay! 
Advent/Christmas Tour Dates 
I'm excited and blessed to head back out on the road for a bit. I'm booked pretty solid this December which will be busy but fun. I've posted the tour schedule below. If you live in or near these area's please come! Or ask your friends who live there to come. The concerts are free (A free-will offering will be taken during the concert and my recorded music will be available for purchase). Bring your friends and family! The music and message will be a wonderful way to bring you into the true spirit of Advent and Christmas. 
December 3 - Our Lady of the Snows Catholic Church – Sun Valley, ID 
December 6 - St. Mary's Catholic Church – Cottonwood, ID 
December 8 - St. George Parish – Post Falls, ID 
December 10 – Our Lady of the Valley Catholic Church – Caldwell, ID 
December 14 – Holy Spirit Parish (St. Anthony Chapel) – Pocatello, ID 
December 15 – St. Rose of Lima Catholic Church – Dillon, MT 
December 20 – CSI Auditorium (with Pastor Lynn Schaal and Caleb Collins) – Twin Falls, ID 
December 22 – Amazing Grace Fellowship (morning church services) – Twin Falls, ID 
Times and other information for each event are on my calendar page. 
Mark your calendar right now.  I'd love to see you there!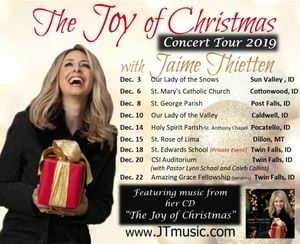 Online Store SPECIALS Begin Today! 
Give the Gift of Music This Year! Don't miss the online specials going on right now. The Music and Necklaces are great for Stocking Stuffers and Christmas Gifts. 
Special 1
Order Any Combination of 5 CD's in my online store and take $15 OFF with 
Coupon Code:  GIFTOFMUSIC   
That's 5 CD's for only $60!  Coupon Expires Dec 25th. 
Special 2
Get 'The Joy of Christmas' CD + the Cross of the Trinity Necklace for Only $35. 
(There are 3 color/style options available for the necklace) 
Don't Miss These Specials.
COUPON CODE will Expire December 25th. 
Fair Trade Point: If you stream or download your music, please consider downloading it directly from my website store (click Store in Menu above). Artists receive pennies on the dollar for streaming and downloads from major sites like iTunes and Spotify. Thank you in advance.   
Thank you
Thank you so much for continuing to support this ministry. I hope all is well with you and I pray you have a safe, wonderful and blessed Thanksgiving, Advent and Christmas. I will be reaching out after Christmas to give you a recap on how the Concert Tour went and share some exciting news about something happening in January! Stay tuned. 
Blessings, 
Jaime